Funeral and Burial Services
Anniston Islamic Center (AIC) has a burial contract with Forest Lawn Cemetery in Anniston, Alabama. Gravesites may be reserved for future family use. As of this date, there are over 120 gravesites available for burial or reservation for future use. All graves are Qibla-oriented.
K L Brown Memory Chapel (a licensed entity) in Anniston, Alabama carries on the funeral service for the deceased in the AIC community. When informed, their representative transports the body of the deceased from the place of death to the authorized washing (ghusl) facility. After ghusl, the body will be kept at the facility for Janaza prayer, and then will be taken to the Forest Lawn Cemetery for burial.
The AIC Cemetery Committee is run by dedicated volunteers to help you with Islamic rituals of preparing the deceased for burial and with burial at the Muslim cemetery.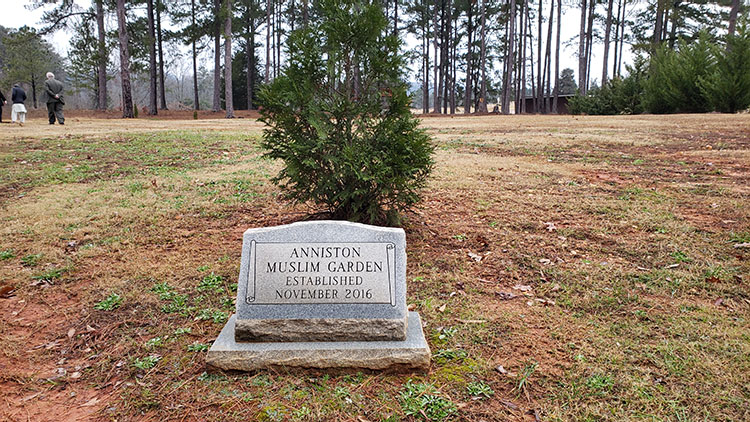 Steps to take in case of a death in your family:
| | |
| --- | --- |
| 1. | Contact any of the representative listed below from Anniston Islamic Center to report the death and to start funeral process. |
| 2. | AIC representative will note the necessary details of the deceased and convey to the cemetery, the funeral home, and the community. |
Contact Information:
Anniston Islamic Center:
Dr. Kazi: 256-454-2265
Dr. Safaa: 256-225-0658
Imam Nisarul Haq: 713-545-3042
Imam Ayman: 251-508-3186
Imam Izhar: 256-600-5929
Sharfaraz Khan: 256-225-6062
Forest Lawn Cemetery:
256-237-3611
730 Golden Springs Road, Anniston, AL 36207
KL Brown Funeral Home:
256-231-2334
620 Golden Springs Road, Anniston, AL 36207
Approximate cost of burial (may change)
| | |
| --- | --- |
| Items | Cost |
| Cost of Gravesite (Opening and closing the grave included) | $2,300 |
| Washing the body | FREE |
| Burial Kit, Head Stone, and Grave Marker | $300 |
| Total costs for burial in the Cemetery approximately | $2,600 |
Please note: Weekdays after 4pm and weekend burial arrangement will be charged extra $500 by the Forest Lawn Cemetery.